In Chile, indigenous groups inch closer to lithium action
And other clean energy mining news nuggets
Community pressure is building against lithium miners in Chile.
Last week, indigenous groups scored an environmental win and used the momentum to call for their government to revoke the license of the No. 2 lithium producer, SQM.
Indigenous communities have long criticized SQM and other producers of corrupting water supply in the salt flats of the Atacama Desert, home to an ecosystem that supports three flamingo species. The region produces at least a quarter of the world's lithium.
But this is the first time that activists feel they have the public and courts on their side.
The country's environmental regulator had accepted SQM's environmental plan last year, but last week, it since rescinded its support. The regulator then announced that it would conduct the country's first environmental assessment of the fragile region since the lithium and copper boom began a decade or so ago.
"Even though it's for a bad reason, it's a good moment to show how mining actually happens in the Atacama," Ramón Balcázar told me. He's a coordinator in the Plurinational Observatory of the Andean Salt Flats.
With SQM sent back to the drawing board and the regulator accepting that it made a mistake, Chile, a hegemon in clean energy minerals, will be re-evaluating how much mining its lands can take.

Sustainability is in SQM's
marketing
.
---
Weekly InQuarry
What does civil society think of industry's solution to waste dam failures?
An industry-UN partnership announced the first guidance on building and maintaining tailings dams. Those are the colossal walls that pool muddy waste that mines can't sell. The dams may be some of the biggest man-made structures in existence.
They're also prone to unleash devastation if they collapse or burst. There are thousands in existence, but no one is sure how many, because there has never been a comprehensive count. Communities near these dams need to know about the dangers to their lives.
Crucially, the standard does not ban the type of tailings dam in Brazil that burst, killed 270 people, and sparked the creation of the standard. Brazil, Peru, Ecuador and Chile have all banned it.
Center for Science in Public Participation: The standard "does not actually require that safety take precedence over economic and other considerations." (The Narwhal)
London Mining Network: "Not enough to prevent disaster." (press release)
Earthworks: "It falls short of what's needed." (my story for Mongabay)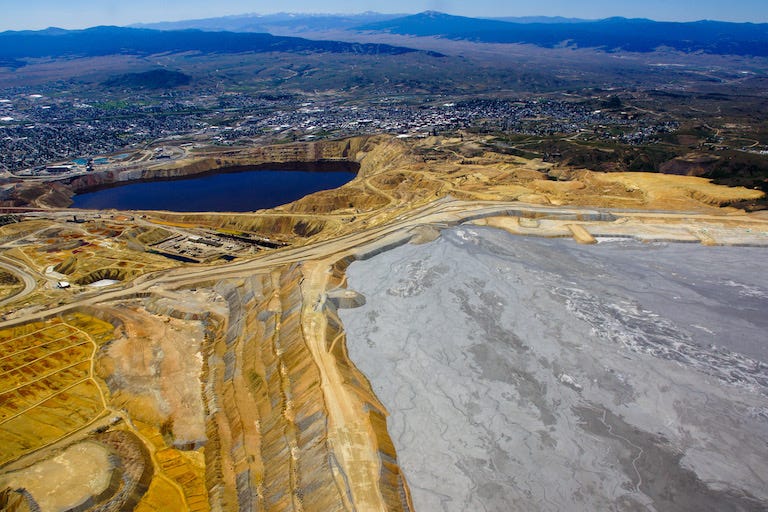 Aerial view of the tailings dam above Berkeley Pit, a highly contaminated former copper mine in Butte, Montana, USA. Image by Chris Boyer/Kestrel Aerial.
---
Indigenous Rights
August 9 was International Day of the World's Indigenous Peoples, and a bunch of outlets had some great coverage.
---
Remember last week's bauxite excavation? Columbia University is launching a tool to track bauxite dust released from mines and threatening Guinean communities.
---
Eye on Industry
---
Reads
These are not endorsements, just food for thought.
---
Hi! I'm Ian Morse, and this is Green Rocks, a newsletter that doesn't want dirty mining to ruin clean energy.
These topics are relevant to anyone who consumes energy. If you know someone like that, share freely! Subscribe with just your email, and weekly reports with round-ups and original reporting will come directly to your inbox. It's free! (for now)